The University of Hertfordshire has a vision to be 'internationally renowned as the UK's leading business facing University'. To help achieve this aim, in 2013 the University embarked on a 50-year PPP project which involved the design, build, refurbishment, financing and operation of a student residence on its College Lane campus.
As the centrepiece of the University's Estates 2020 Vision, the redevelopment of College Lane has been the platform from which the University has launched its long-term modernisation plan. Boasting some of the best and most sustainable student accommodation in the UK, all 21 new buildings have been rated 'Outstanding' by BREEAM.
Fulcrum provides a range of operational management and financial management services to the project.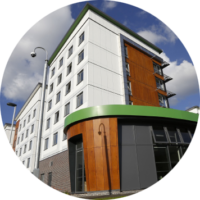 Radical improvement in accommodation services has been achieved for students at The University of Hertfordshire, through a comprehensive change management process applied by the Uliving@Hertfordshire partnership.
After taking operational control of the Uliving@Hertfordshire site, Fulcrum worked closely with the service provider to drive improvements in performance which has had a positive impact on student satisfaction.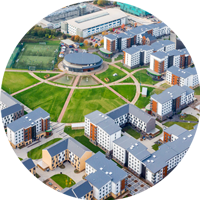 A unique public-private partnership has turned the ambitions of Hertfordshire University's estates plan into reality: delivering accommodation for 3,000 students with an 'Outstanding' BREEAM rating for sustainability.
The University of Hertfordshire can boast some of the best accommodation for students in the whole of the UK. On the University's College Lane campus in Hatfield, a complex of 21 new buildings with room for 3,000 people was completed in 2016.
Many of the students on the campus now wouldn't know how it used to be but compared to other sites you notice the difference. It does look stunning; the green agenda is good and Uliving@Hertfordshire has worked hard to develop a collegiate feel. They've been open to our ideas and requests for how the facilities are used and they've been receptive to the idea of creating a range of price options to help meet the needs of different students' abilities to pay. It's been a healthy, open door relationship.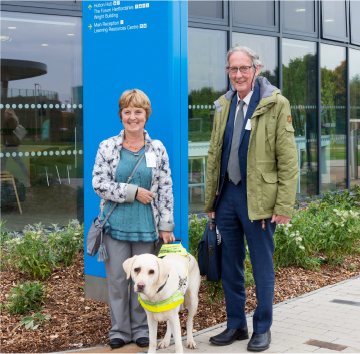 Sustainability is at the heart of the College Lane project, from design and build through to operation, reducing environmental impact and improving well-being through the creation of open spaces and high-quality sports and recreational facilities.
The success of this is demonstrated in the series of award accolades which have recognised the project's achievements. These include Best Student Housing Award (CUBO Awards), Student Accommodation Awards (Property Week) and the Partnership Awards ('Best Operational Project').
Construction and ongoing support services were coordinated in consultation with the University and Students' Union, with furniture removed from the refurbished buildings donated to local charities for reuse.